Avast Cleanup & Boost, Phone Cleaner, Optimizer
Phone Cleaner – Reclaim Your Phone's Storage Space
Is your phone getting slower? Are you having difficulty finding space on your phone for new apps? If yes, then this phone cleaner is a must-have for you. Avast Cleanup is a useful app that allows you to clear out the junk that has been piling up in your phone's storage and also boosts your phone's performance. It scans your device and finds out all the files that are hogging your phone's memory for no reason. You can safely remove them from your phone to free up space for important apps. Also, this phone cleaner identifies apps that are draining your phone's memory. It puts them all in hibernation so that memory is available for the apps that are currently in use.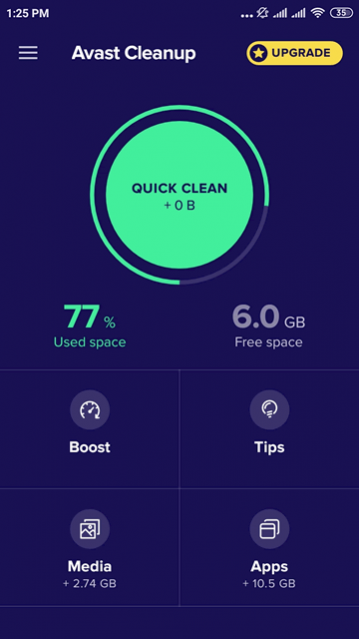 Avast Cleanup has an intuitive user interface. It ensures that everyone can interact with this phone cleaner and use it for removing junk from their phone. The user-friendly design and layout of this app make navigating it an easier proposition for one and all. However, before you get to use it for optimizing your device, Avast Cleanup will ask you for a lot of permissions. These permissions provide a lot of control and accessibility to this app over your device. Although these permissions are necessary for the app to work, they are quite intrusive and can compromise your privacy. So, if you are very conscious about your privacy, you shouldn't allow these permissions to this app.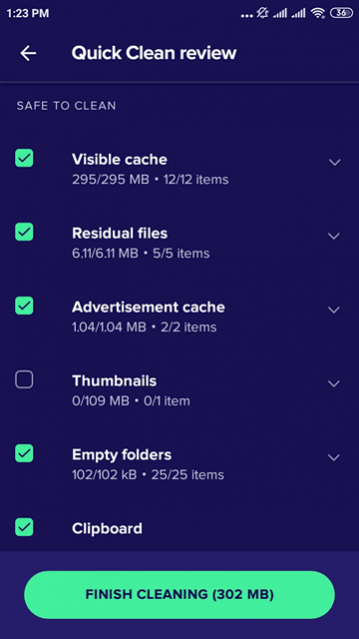 This phone cleaner has a powerful phone cleaning tool that can obliterate junk files comprehensively from the phone. Any residual data from the apps that you have uninstalled along with junk files from other apps on your phone will be removed in a single sweep. Moreover, any hidden junk files that aren't caught by other phone cleaners will also be found and removed by this app. When scanning the device to free up space, this app will present many files to you that can be removed to lighten the load on your phone's storage. It will be up to you to decide whether you want to delete those files or not. You can click the checkbox located in front of them if you want to remove them from your phone.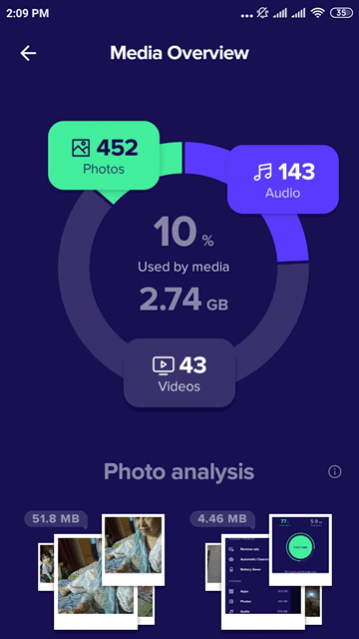 Avast Cleanup isn't just a phone cleaner. It is a phone booster and optimizer as well. You can boost your phone's speed by using the 'Boost' option it provides. This tool clears the cache of your phone and puts all the apps that are running in the background in hibernation. You can also get detailed information about your phone's media collection with the 'Media' tool. It tells you the total space that has been taken up by the media files on your phone. Additionally, it shows you the exact number of photos, videos, and audio files that your device currently holds. It even lets you optimize your photos to improve their quality.
Features:
Intuitive user interface
User-friendly design and layout
Powerful phone cleaning tool
Scans phone for hidden junk files
Provides detailed information about your phone's media collection
Identifies apps that are draining your memory
Optimizes photos and improves their quality
Puts apps in hibernation that aren't in use
Offers tips for keeping your phone clean
Conclusion:
Avast Cleanup is an app that is designed for people who want their phones to work at a high-performance level all the time. It enables them to identify the hidden junk files that have been slowing down their phone and eating up its storage space. It is a phone cleaner worth having on your phone if you want to keep your device running smoothly and aren't too concerned about your privacy.
RELATED PROGRAMS
Our Recommendations
---
---
---
---